Lashes are a very important step in any makeup routine. With the pandemic still present, going to the lash appointments feels like a risk. However, this doesn't mean you can't look glamorous and have long, curved eyelashes that help shape your eyes and make you feel confident. Magnetic lashes can help you achieve seducing eyelashes in a few easy steps. AddictaLash offers numerous styles you can choose from depending on your preferences. While Pixy Kit is a great choice if you enjoy a natural look, Perfection Kit allows you to achieve a glamorous cat eye look with fluttered and long lashes. Whatever your preference may be, if you want to be able to use your magnetic lashes for as long as possible, you need to clean them properly.
CLEAN YOUR MAGNETIC LASHES TO KEEP A GODDESS LOOK!
Once you discover how to apply and remove your magnetic lashes with ease, you should learn how to take care of your lashes and keep them in pristine condition for future use.
HOW TO MAINTAIN YOUR MAGNETIC LASHES
METHOD 1:
This method will help you clean your lashes in a few easy steps. To clean your magnetic lashes properly, you will need:
eye makeup remover
90% alcohol
cotton rounds
a cotton swab
tweezers
1. Remove the Lashes
Before cleaning your lashes, you want to clean your hands properly, to ensure you aren't transferring any bacteria onto the lashes. This is very important, as handling the lashes with dirty hands may cause you to get an eye infection.
To begin the process of cleaning your lashes you want to remove them first. Start by gently removing your lashes from the AddictaLash eyeliner by grabbing the outer corner of the lash band and slowly pulling them off (we don't recommend to grab from the lashes but from the lash band). Be extra careful during this step to avoid damaging the lashes.
2. Clean Your Magnetic Lashes
Once you have successfully removed your magnetic lashes, you want to clean them of any eyeliner residue that may be left. This will ensure that your magnetic lashes stay in top condition. To do this, you want to soak up the cotton pad with the eye makeup remover such as micellar water (Not oily). Then, gently rub the soaked cotton pad against the magnetic lashes. This step will help dissolve makeup and eyeliner left on the lash. Make sure to use small movements and light pressure, as you don't want to distort the shape of the lashes.
3. Clean the Magnets
You should also clean the magnets on the lashes. Do this gently. You don't want to scratch them. However, you want to make sure you are removing all the eyeliner from the magnets, as this will ensure they remain effective for the next use.
To ensure your lashes and magnets are perfectly clean, you should use 90% alcohol. Simply coat a cotton swab with alcohol and run it along the strip of the lashes and the magnets. This will ensure your magnetic lashes are completely free of any makeup or eyeliner residue and ready for the next use.
4. Dry the Lashes
It's extremely important to dry the lashes properly after cleaning them. You can achieve this by placing them on a towel and leaving them to air dry.
METHOD 2:
For this method, that will help you clean your magnetic lashes, you will need:
a plastic container
makeup remover (not waterproof!)
tweezers
tissues
eyelash comb
1. Remove the Lashes
Again, wash your hands and remove your magnetic eyelashes. Gently pull your lashes until they come undone.
2. Clean Your AddictaLash
For this method, you want to place your AddictaLash magnetic lashes in an empty container and then pour the makeup remover (e.g: Micellar water) on top. Make sure the makeup remover covers the lashes, as you want it to dissolve the makeup and the eyeliner left on the lashes.
You want to leave your lashes in the makeup remover for up to five minutes. Be careful not to leave them for longer than five minutes as you don't want to damage the lashes. Then, remove the lashes from a container using a pair of tweezers and place them on a tissue.
3. Remove Excess Eyeliner
After soaking your magnetic eyelashes some eyeliner may still be left on them. You want to make sure you remove it completely. To achieve this, hold the magnetic eyelashes between your thumb and forefinger. Then, using tweezers, remove the eyeliner residue from the strip and the magnets. Again, be extra careful during this step to avoid damaging the lashes.
4. Double Clean the Lashes
To ensure your magnetic lashes are completely clean, you should clean the container and pour a thin layer of makeup remover into it. Grab your lashes with a pair of tweezers and dip them into the container and move them gently from side to side. Do this for both sides of the lashes.
5. Dry Your Lashes
Place the magnetic lashes on dry tissue. Dry them in a room without moisture in the air. Once your lashes are completely dry, comb them through with an eyelash comb. This step will help the eyelashes to keep their shape.
NOW THEY ARE CLEAN, YOU HAVE TO PUT THEM AWAY!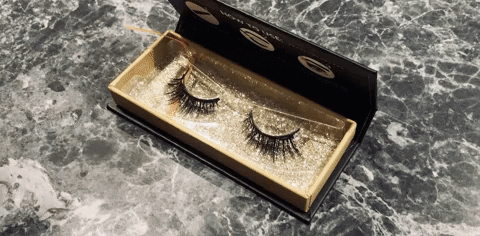 Many lashes get lost or damaged when they aren't kept in a safe place. To ensure you get to use your Magnetic Lashes for as long as possible, you want to put them away safely.
These steps will help you keep them in pristine condition:


Do not put them away while they are still wet or even damp.
Keep your lashes in the original AddictaLash box they came in. This will ensure they hold their shape and you will avoid them getting damaged.
Store your lashes away from light or direct sunlight. Sun can change the colour of the eyelashes, which is why you want to store them in a dark place. Also, make sure they are stored in an environment that doesn't have high moisture levels in the air.
If you apply and clean your
Magnetic Lashes
 properly, you will get a lot of use out of them. Which makes them perfect for both everyday wear and special occasions. The
AddictaLash eyeliner
will help the lashes stay in place for the whole day, but it will also remove easily at the end of it.